I'm a broken record when it comes to new business development.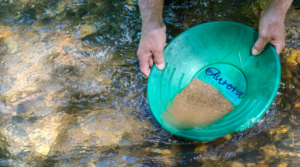 Unless your business never (and I mean never ever) has clients that retire, relocate, downsize or die, you must consider new business development strategies, aka PROSPECTING.
What's the first thing you think of when you hear the word "prospecting"?
Networking, maybe?
Cold calling? Did you just shudder and break out in a sweat? I don't blame you. 
Did you know that dictionary.com defines prospecting as:
to search or explore (a region), as for gold.
to work (a mine or claim) experimentally in order to test its value.
That's pretty cool even though I know that they are not distinguishing the word in a sales capacity.
Sales & Marketing gets a bad wrap, and prospecting, to me, is the gritty way to say new business development. 
Most people DO NOT have the same reaction (shudder and sweat) when you discuss customer service. Some people think it's "safe". We get to respond to clients who are looking for us to help them. Makes sense.
I don't want to be a party pooper, but customer service involves its own form of prospecting. Every interaction with a client is an opportunity to demonstrate your expertise, solve a problem and….wait for it…remind them why they do business with us. 
Not so fast. That's the easy part. 
The hard part is not letting them off the hook (literally and figuratively) once you managed the task at hand. Taking a few minutes to ask them for feedback on how you're doing and reminding them what else you do in your business, gives them a reason to think about why else they need to hire you.
It's harder than it sounds. In the insurance world, we call that "account rounding" and "cross-selling".
Without getting too dense, if you're not getting uncomfortable with how to find new clients, you are not growing. It may not seem like it now, but there will come a time when a shift will happen. The key is, either doing it voluntarily and proactively or reacting to circumstances beyond your control out of desperation. 
Sometimes, having a dedicated person to help with sales and marketing, prospecting and new business development is a luxury and a focused disciplined. Other times, developing a culture where everyone in your office pitches in, is how will you will not be the best kept secret.