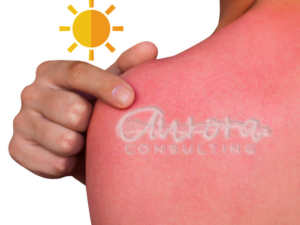 It's summer time…the joys of barbecues, boating and the beach. Except when you fall asleep on the beach without reapplying your sunscreen. I hate when that happens!
The worst part is when you're showered, refreshed, and ready to relax from the relaxing, the negligence kicks in. BAM! 
The savage tan you were hoping for is replaced with red, blotchy skin that stings to the touch. It's painful, isn't it? The raw burning pain is all we think about. We focus on seeking that remedy, that magical ointment, that will relieve the burn.
These ailments are physical…and visible. They can limit us in our mobility because they devour our thoughts with the pain while waiting for the relief to set in. When will the pain stop?
Unfortunately, there are no physical signs when we are STUCK in a RUT. And just like forgetting to apply sunscreen, there is no warning that this rut is imminent or happening as we speak.
To make matters worse, unlike the relentless focus on physical pain, we justify and defend our lack of progress. Isn't there an ointment for that?

Think about it, the status quo is like walking around with a sunburn and not knowing it. It's safe; it's NOT uncomfortable. We aren't in pain. Or are we?
Overcoming the status quo is like the ointment on the burn. As much as we try to maintain the status quo, the more we find the outside world will force us out of our comfort zone, through no fault (or desire) of our own.
There's a big, bad, world out there waiting to spin us around in an attempt to try something new, whether we like it or not.
Is your status quo any of the following:
Is sales and/or marketing not your forte?
Do you think you don't know how to sell?
Do you not like to bother people with asking them to buy from you?
Many of you may feel dread and trepidation thinking we're intruding on someone's privacy. What's up with that?
What happens if YOUR service and/or product is something THEY really need? We only hurt ourselves with missing out on that next new client who wants, nay NEEDS US!!! 
We hurt ourselves by sticking to the status quo; you know, like a sunburn.
Learning how to overcome the hesitation we have about asking for someone's business is a lot easier than you think. It's like putting the ointment on the sunburn. Failing to overcome that hesitation results in losing money for no reason other than your awkward shyness. Failing to apply the sunscreen results in that nasty sunburn.
Pretend that sunscreen is merely a shield from your shyness and go burn it up!