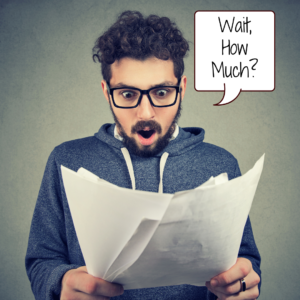 When you walk into your bank to apply for Business Credit Financing, the most likely result is the Banker chats with you for a few minutes then hands you an application package for you to complete.
It's a nice package. The Bank logo is prominently displayed and the information required is laid throughout the package.  The documents are listed in the package to make it easy for you to move through them in a logical progression.
When you're done with the package, you bring it back to the Bank, along with your supporting documents (Tax returns, Updated Financials, etc.), and the application fee.
The bank isn't taking any action or providing you with a decision, or even feedback on your financing request without the completed application and accompanying fees.
At Aurora Business Consulting, we're happy to be your resource to spend the time BEFORE the application is presented to the Lender to determine your business' qualifications, identify obstacles, consider strategies and outline the financing products that will help you to achieve financing success that will help to attain your goals. 
We find the right Lender for your needs.  It doesn't stop there.  We'll act as your "concierge" as we handle all the documentation and communications with the Lender.
In short, when you begin your process to find Business Credit Financing with us, we don't simply hand you an application package and ask you to fill it out, return it and pay the fee. Yes, we do require a small investment from you in the form of our processing fee.  
We ask this and require this because there is a process to qualifying your financing request and we invest time to search for the best financing solutions for your financing needs.
Occasionally we'll meet a new prospective client, conduct our initial telephone interview and discuss how we can move forward.  We send out our Introductory Broker Package which includes our Broker Fee Agreement, an Overview of the process and a Credit Authorization Form to run credit report(s).   
Occasionally the prospective client doesn't return the package nor pay the fee. They disappear.
We understand that sometimes the upfront fee might seem to be an obstacle in the mind of the prospective client.  
But, we also understand the common procedures in our industry and that processing fees are a standard requirement. We're not the Bank.  We're YOUR Broker.  We work for you, not the Bank.  We're investing our time and experience to a dedicated strategy: Find your requested financing.
We are not the right fit for everyone and that's okay. Some of the clients we work with may have already been down a dead-end path with lost money and time to show for it.
We work with people that understand and value the time it takes to vet the banks that have specific appetites for your financing request.
We value your time and appreciate the consideration it takes to move forward to build your business.