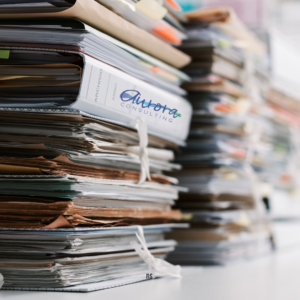 When we locate the right Lender to provide a financing solution for your capital needs, the Lender requests documents as part of the application process.  We prefer to collect and review as many documents as possible early in our qualifying process.
We review each document you submit.  We do this to determine your business' qualifications for the different financing products available through our matrix of Lenders.  But we also review your documents to look for any issues that might arise in the financing request and to resolve those issues before we submit your request to a Lender. Not all Lenders require all these documents, and occasionally we prefer to submit certain documents only after a detailed conversation with a Lender.
The definition of a successful Loan Application is the approval you want, the approval you need, and the approval that meets your timeline.
Early on in our long experience working in the financial services industry, we learned the lessons of successful applications:
Lesson 1: The Application can make or break the deal.  The Application is the source of all information and, ultimately, the guidepost for processing and Underwriting.  The more complete and accurate an Application, the better the Underwriting RESULT.  That RESULT is not only an approval, but a timely one.  The complete Application typically anticipates the Underwriter's thinking and answers questions before they're asked.
Lesson 2: It's all about the paper.  Yes, even in the 21st Century (is it time yet to say, "Beam me up, Scotty?"), you have to support your Application with documents.
Lesson 3: The front-loader.  When you submit your Application with a complete basic set of documents at the onset, your process moves much quicker along to the goal line.
Lesson 4: Give 'em what they need, not what they want. Many times a Lender and/or Underwriter will ask for more documents than are necessary.  We've learned time and again to push-back on certain documents requests.  Often, we'll ask the Underwriter for a valid reason for the document request.  Piling more documents into the Application package simply because they "want it" slows down your approval timeline.  You'd be surprised with how many times a requested document isn't actually needed for the loan approval.
Lesson 5: Garbage in, garbage out.  A single document, presented incorrectly, can torpedo your financing request.  At the very least, a document that presents a challenge to the loan approval process should be presented with an accurate explanation, whether the document provides a positive or negative aspect to the entirety of the Application.  We learned long ago the value of the phrase, "Garbage in, garbage out."
Lesson 6: Underwriting is Subjective.  Underwriting is more a subjective than an objective process. You want your Application to move quickly through the system for one important reason: don't give the Underwriter time to develop a dislike for your Application.  When an Underwriter can move efficiently and quickly through a Loan Application, they don't have time to develop negative opinions about the Application. The lingering-loan-application simply provides an Underwriter with more time to excessively scrutinize details that may not really be negative, but can develop into a negative aspect in the Underwriter's subjective way of thinking.  You know, they're human too.
When you subscribe to our email newsletter, we'll send you our Documents checklist.